Punch Needle Frames
Needle punching is a craft or art technique of looping yarn, floss or ribbon in the format of a pattern through fabric. The looping gives the pattern a rug like appearance. The origins of needle punching are debatable. Some claim it has been in existence since the ancient Egyptians began making needles out of hollow bird bones, others claim needle punching originated from the Old Believers in Russia, while others trace its origins back to Germany or England. Needle punching is used to embroider items, create wall hanging, ornaments, pillows, rugs and other décor and crafts.
(from wikiHow )

This craft is a sister to rug hooking and so we've created a sturdy and useful frame with which to needle punch. Embroidery hoops can be fragile and loosen their hold on the fabric backing as you work causing you to have to stop, loosen the screw, make the fabric taut and tighten the screw. Tedious! Our punch needle frame is made of solid cherry and features Howard Brush gripper strips designed with more teeth per inch specifically for holding the finer linen punch needle cloth. We secure the strips over a rounded edge to open the teeth and allow for an even better grip.
Note: Shipment outside the US will likely cost more than the fee this website will automatically charge. Please contact us prior to purchase for exact cost.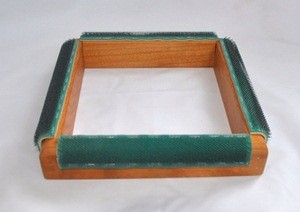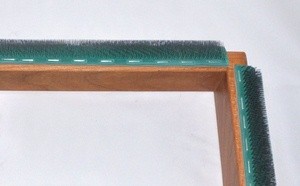 Depth of frame including teeth is 1.75 inches.
Interior punching area measures 6.5 inches square.
NOTE:
These punch needle frames are not suited to rug hooking or Oxford rug punching. They are not deep enough to accommodate Oxford needles.
Please see our other pages for
rug hooking frames
and
Oxford punching frames.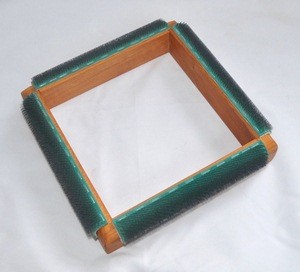 Cherry Punch Needle Frame - $40.00

We also make a larger frame for bigger projects. This size has an interior punching area which measures 8.5 inches square. Same great look and quality, just larger.
Cherry Punch Needle Frame - $50.00


**************************************
Punch Needle Starter Kit
Everything you need to start needle punching (except the pattern) is gathered here in a convenient group. Our Starter Set includes an Ultra Punch Needle Set, a fat quarter yard of Weaver's Cloth and one of our small cherry punch needle frames. Total value when sold separately is $69.99 - buy here as a group for $58.00!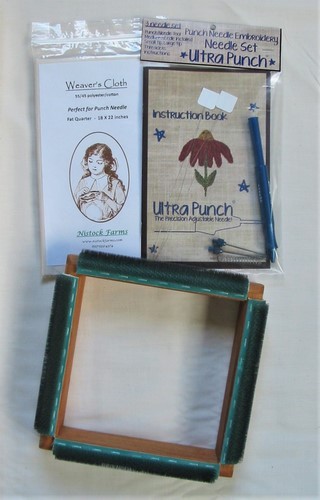 Punch Needle Starter Set - $58