Drop Spindle Kit
If you've ever wanted to learn to hand spin yarn, here's everything you need to get started!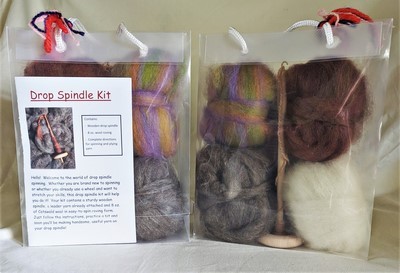 Our Drop Spindle Kit includes clear, complete written directions for spinning and plying yarn on a drop spindle, a sturdy, wooden bottom whorl drop spindle, and 8 ounces of 100% wool roving in 4 different colors - a pleasing combination of naturals and dyed - all gathered together in clear plastic gift bag. (Colors may vary from picture.)
Indulge yourself! Or, give as a gift to that creative person you know who likes to try new things. Buy 2 and learn together with a friend!
$29.00
*Note: Shipment outside the US will cost more than the $7 this website charges you. Please contact me prior to purchase for exact cost.
To aid you in learning to spin, please check out these two links to free e-books provided by Spinning Daily at Interweave Press.
Drop Spindle Spinning
Processing Wool