Oxford Punch Needles
We carry all sizes of Oxford punch needles, both boxed and unboxed.
Boxed
needles include a stitch gauge, a handy booklet of basic information and tips to help you begin punching and a sturdy cardboard storage box. All sizes of boxed needles are $39.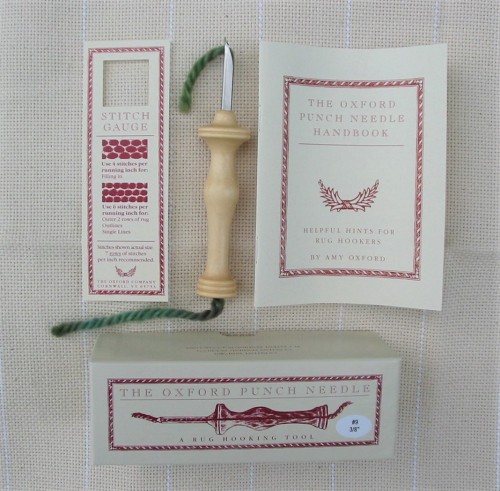 Unboxed
needles include no literature or packaging except for a little plastic bag we pack them in for shipment. All sizes of unboxed needles are $32.
"So many choices! What's the difference?"
Needle thickness
- regular or fine - dictates the type of yarn you can use. Yarn must flow easily through the eye of the punch needle. Regular needles can accommodate bulky yarn or multiple strands of thinner yarn or traditional 1/4 inch wide wool fabric strips as used in rug hooking. Fine needles can accommodate a light worsted yarn and yarns which are thinner. If you have a large stash of yarn just pick the needle thickness that best suits your supply.
Needle length
is the other variable to consider when choosing your Oxford punch needle. The height of the yarn loop will vary from 1/2 inch tall with a #8 and go down to 1/8 inch high with a #14. Do you need a thick cushion for hard dining room chairs? Go with a #8 or #9. Do you need just a good rug? Probably a #9 or #10 would be best. Are you going to make purses or tote bags that you carry? Consider a #13 or #14 as the short loops will make the same beautiful pattern but use less yarn and so weigh less. As you advance in your creativity you may want to mix heights in a piece for texture or use both regular and fine needles of the same size to create fine detail on pattern elements - cat whiskers, highlights or shadows on objects, etc.
If you are unsure about which size punch needle you need for your project, just
email us
. We'll be happy to help you decide what will work best for you!
Note*
- purchase a complete set of all eight sizes of punch needles and receive
FREE
shipping on your order!
Oxford Punch Needles With Box, Handbook & Stitch Gauge - $45.00
Oxford Punch Needles Without Box, Handbook & Stitch Gauge - $36.00