About the Farm & Our Sheep
Since 1990, sheep have grazed the rolling pastures of our 530-acre farm, which is located in the Finger Lakes region of Western New York.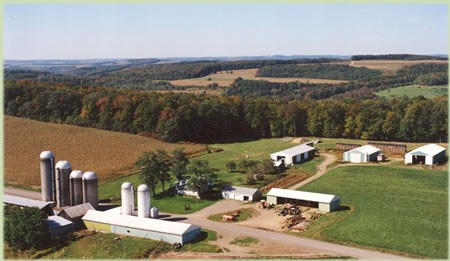 Our flock consists of white and colored registered
Cotswold
sheep, colored crossbreds of
Border Leicester
,
CVM/Rambouillet
and
Corriedale
lineage (NCWGA registered) and white crossbreeds of the same types. All have been selected for superior fleece, mothering ability and structural correctness.
We are extremely concerned with biosecurity and have decided not to take sheep to shows anymore. Our flock is closed except for very occasionally bringing in a new ram, and then only after he has been vetted and demonstrated negative tests for OPP, Johne's Disease and Brucella Ovis. On 9/14/09 we reached
Certified Scrapie Free
status in the
Voluntary Scrapie Flock Certification Program
.
The production of beautiful fleeces is the main focus of the flock. To this end, we coat the majority of our sheep at the start of the winter hay feeding season. While coating is costly and labor intensive, protection of the fleece greatly improves the quality of the wool. We have settled on
"Sheep Suits" from Rocky Sheep Company
as the brand that works best for us. Reservations for fleeces are taken in spring, usually before shearing occurs. Shearing begins in March as soon as weather permits. It requires multiple visits by our shearer to clip the whole flock. None of us are getting any younger and our sheep are large! Skirting for reserved fleeces begins immediately and fleeces are sent to buyers as fast as possible.
In 2015 we suspended our breeding program, perhaps only temporarily. The flock has grown to a size that will sustain our fiber endeavors for the foreseeable future. We also wish to cease the freezer lamb segment of the business and the surest way to achieve that is to stop making lambs! Some ewes are in the "double digits" geriatric club and enjoying their retirement while growing fleece. The bulk of the flock is still of an age where breeding is possible and so we'll not yet say 'never again.' We have not sold our rams so the possibility remains that we may breed a very select few ewes in the future. Our rams have been selected for fleece characteristics and temperament. We only keep mellow rams that mind their manners. In 2002 we added a
Moorit CVM / Rambouillet
cross ("Rusty") whose rust colored fleece was very soft and even. In 2004, moorit ram "Barney" from CA joined the flock. Having 2 years of daughters from Rusty necessitated widening the gene pool. In 2006, seeing that we were losing some Border Leicester influence with the passing of some old girls, we added "Mr. Lincoln" - a black Border Leicester ram lamb from MA. Although Rusty, Barney and Mr. Lincoln have crossed to greener pastures some of their sons now carry on here. In 2007 we are had some artificial insemination done in the Cotswolds using a British ram which gave us some very "classic" looking lambs. We have used 3 of the resultant F1 rams on our ewes.
Please feel free to contact us about any aspect of our operation. We are always glad to answer questions to help beginning shepherds, and can "talk sheep" till your eyes glaze over!
We look forward to you experiencing the quality of our products,
Robin and Andy Nistock
(and Holly!)