Customer Comments
Our customers frequently email shortly after receiving an order from us. Here are some recent comments:
You guys send out the most amazing stuff. From the packaging to the product it is all such great quality. I can't wait to finish up some projects and pull together some fiber for blending.
Beautiful Coconut arrived yesterday! I opened the box and enjoyed the scent of wool and lanolin. Today I set up my work table and released Coconut's fleece and I felt such joy. Almost like having a new puppy, it tickles me inside. She is stunning and I am so happy I went for her. The fleece is clean and has the most lovely shine, I just love it!!!
I love the yarn! I was pleasantly surprised with how smooth it is to work with. The weight is perfect, and great warmth on the joints. I know I'll need some more of it. I can't get over the shine!!
Just wanted to thank you for the instructions to roll out the fleeces - it usually takes me a while to figure out which end is which! They are all beautiful but I wanted to tell you that the color on Gem is just outstanding! The pictures on the website did not do her justice.
Thanks again.
I just wanted to let you know that I couldn't wait to try out my Quad Kate when I got it home and it is wonderful! I've been looking for a good kate for some time and I have to say Andy's got a terrific design and it is beautifully made. I'm so very happy with it and know I'll get lots of use out of it for years to come.
Safe arrival of your yarn and it is absolutely beautiful in color and texture! Thank you!
I received the fleece and it just wonderful. You laid it so beautifully. I am just getting around to washing it today. Your instructions are very helpful.
To get my feet wet with raw wool, I also purchased some fleece from someone on etsy and your wool is so clean and free of VM by comparison. I will definitely be interested in ordering more fiber from you in the future.
Kahlua's fleece just arrived
Robin it's perfect!
Sooo soft and the colors! Wow!
I can already see the cable pattern it wants to knit into
Beyond pleased with my purchase
The roving arrived today. I am beyond thrilled! I haven't had Cotswold fiber since I got some from Sandy Ryan at Homestead wool and gift farm nearly a decade ago. Your preparation is everything I remembered Cotswold to be, I will be happy to bury my hands and face in it and never spin it at all! I'm so happy to have discovered you, I will definitely order again. Thank you,
The winder came today - just in time! I had 14 skeins to rewind before our market tomorrow. Perfect timing and what a wonderful tool. Thank you so much.
Hello Robin, Just wanted to let you know I received the Cotswold I ordered, and I could not be more pleased. It is perfect. Thank you!
I got home from a long day at work and my reward was to put together the skein winder….Wow! It is perfect! I am so impressed with the quality and design! I am going to share, share, share. Thank you again,
The Quad Kate arrived today! It's wonderful. Perfect timing as I'm getting my sock yarn spun so I will have four bobbins to ply. It's so much nicer than my Schacht with the little stoppers to deal with. I appreciate all you did to make this. Many thanks,
I washed up a couple locks from Nora, and I just love them! She has lovely, long, soft curls, and so easy to wash.
Thanks for your kind words about the little runner. It came out well enough that I thought it might encourage a felter or two to try your exceptional blends. Both my sisters like it so well that I am about to make a second so they can both have it! I hope it encourages felters try your wonderful wool. Besides the quality of your cotswold wool in general and your exceptional color blends, to me it's also the style of roving you've sent. It's airy and light, much more open than others I've had, and I find it sensual to work with and easier to get my new varigated look. I hope to buy a few ounces of whatever you come up with, both solids and blends.
Wanted to inform that we got the box. Fleeces are beautiful! My wife is very happy with colors and fleeces quality. Thank you.
Yan B. from Israel 10/5/2015
My fleeces arrived!!!! They are beautiful, even in the bags :) I have errands to run today, but had to open the box and feel each one. The colors, lengths and softness of each fleece has already exceeded my expectations and I cannot wait to get my hands in them :)
The fleeces arrived last week in good condition. I have already had a chance to wash BB's and card and spin some of it. What a beautiful color and so very nice to work with. Thank you very much.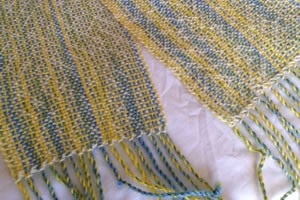 Well, it's been a few months since I purchased this yarn, but I just finished weaving (plain weave) it into a scarf. Love the colors, but particularly like the 'tracking' design that occurred naturally. Thank you for your lovely yarn.
I saw Amber a couple of weeks ago, and split the fleece with her. Oh my gosh - it is BEAUTIFUL!!!!!! We were both thrilled with it! I am going through my stash and trying to get bits and pieces of things used up, and I just today dyed up the remainder of my last Cotswold from you. The lustre on them is just gorgeous! Just wanted to let you know how awesome the fleeces are!
The fleece arrived on Saturday, and I washed out a small handful of the locks yesterday. My God, that is the most perfect and beautiful fleece I've seen in many many years. HOW did you happen to have it on hand? I can't imagine how someone didn't scoop it up, although perhaps you don't sell on the farm on shearing day -good news for me. Thank you for selecting it for me. I could not have done better myself, that's for sure. I'm so glad it didn't go to processing, not that there's anything wrong with processing, you certainly need all the fleece you raise to meet your customers' demands, but a fleece this flawless can teach me so much! I'd love to call in sick for two weeks so I can wash., comb, and spin enough of it to start my knitting project. It's been years since I've found a fleece this exciting to work up. The fibers are so fine and silky I had to get out my Louet mini combs to work them the way they deserve. I have double-row Valkyrie Viking combs, which are surprisingly fine, but the baby wool needed something even finer.
Congratulations on raising such a beautiful fleece. This is a real treat, and I'll love working with it.Hoo-boy!
I just wanted to connect with you and let you know that I have now made three sculptures with your wool and I love it. It felts very nicely and without hollowing out like I was concerned with. Thank you so much Robin!
Hello again, I just have to say again how wonderful your fiber is. I have still been trying many kinds. From small farmer ( my favorite) and commercial processed. From the bovines, to the camelids and many sheep types. From domestic to the primitive and endangered sheep. As well as some of the plant and grass fiber. Your fiber is still my favorite. It's texture, softness, sheen and ease of spinning. Your roving is nicely prepared and your dye jobs are just beautiful. Thanks again
This are excerpts from the very happy email that Carol wrote to me as soon as she got Venus. (Sorry not to have forwarded it sooner - the fleece arrived Friday, I think, but I didn't get my email until yesterday.) She is very, very happy with the fleece as you can see. I had asked her to send me some yarn samples, so I could see the relationship between fleece and yarn - it looks like I'll be getting plenty!
She would like to know when you have fleeces you available in the future. If you could email her with descriptions, I suspect you will get a quick, positive response.
She is a great person - very generous hearted and full of zest. She also spins compulsively & runs through fleeces very fast!
Thanks again for making both Carol & me very happy! All the best -
The roving arrived today!!!!! I will get your check off to you Saturday!
Oh my this roving is absolutely beautiful. That black coffee is gorgeous, I think a sweater would look nice out of that for my dh:-) But I'll have fun playing until I can order what I need for his sweater :-) Thanks a bunch!
Venus arrived. Killer fleece. One of my favorite colors and one of the rare ones...black with somehow an overlay or shot through of just a bit of silver. Very clean, beautiful crimp, and fresh and greasy as all get out. Perfect to spin right out of the box.
Venus is great, so sexy to spin, good grease and very easy. why do people bother with that ugly roving? I am going to send you samples of one ply, two ply, three ply, and my all time favorite, 4 ply cabled. I only do it with great fleece because it is labor intensive and unless the fleece is great the cabling doesn't show.
Tell the shepherd to write me next year, I want to be customer.