Spinning Batts
Are you new to Cotswold or just want a little something fun? Our 'Sophisticated Sheep Spinning Batts' are delightful, one-of-a-kind creations carefully built with a smooth, consistent preparation for your spinning pleasure. All are made with Cotswold wool. Some are 100% Cotswold and some have strategic additions of other complementary fibers - silk, firestar, angelina and more. (The 100% Cotswold batts are eligible for the SE2SE program!) These large batts measure approximately 22 X 36 inches and each batt weighs between 5 and 6 ounces so you will have enough material to actually make something more substantial than a sample to look at! Each is unique but that doesn't mean you can't mix and match for bigger projects. If you love it, grab it! It might be gone tomorrow. *NOTE - As for all orders, if actual shipping costs end up being more than $3 under what the website charges we will refund the difference.
Sunrise - Cotswold wool, dyed mulberry silk (pink), Citronella angelina - 6.0 oz.
Pastel pink, yellow and blue Cotswold wool carded together showing blended shades of peach and chartreuse with pink silk top and greenish yellow angelina added throughout. The silk should show up in discrete blips when spun and the angelina will add sparkle.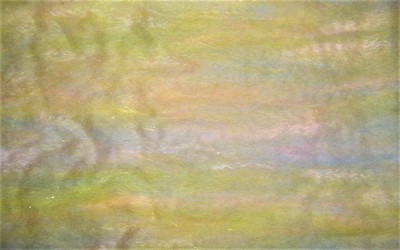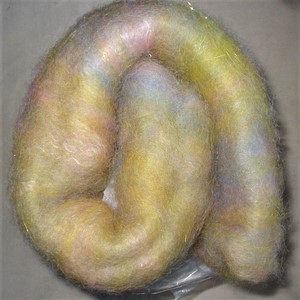 $24.00
Cherry Sparkle - Cotswold wool, white firestar - 5.5 oz.
Cherry red Cotswold wool with a sprinkling throughout of undyed (white) firestar fiber which adds glitter.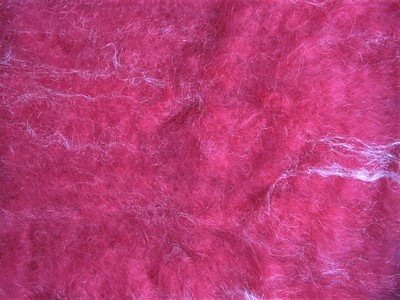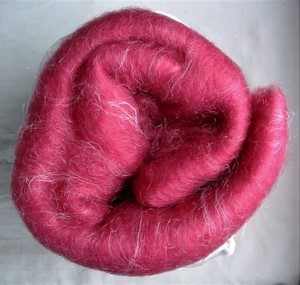 $24.00